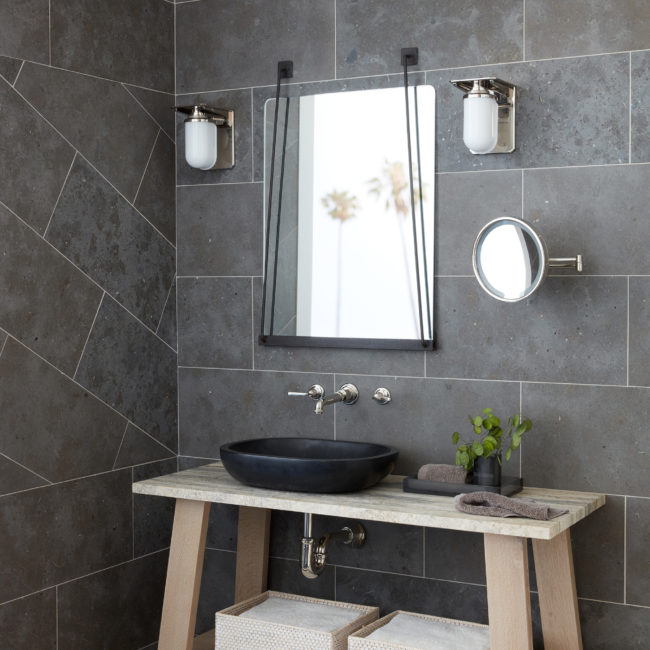 Mounted on a stone wall, the faucet over the large and lovely racetrack-shaped oval is both trim and elegant.

I have written about wall-mounted faucets before, but today they seem more relevant than ever. Certainly, mounting a faucet on the wall, especially on an elegantly shaped backsplash, is a space saver.
A wall-mounted faucet fills a space on the wall that might otherwise be used for a shelf. For the most effective application, you must make the right design choice, keeping in mind scale and proportion. The look presents a different view of the details. Normally, one looks down upon the faucet; the profiles and details are obviously apparent. But viewed straight on, they appear more slender and certain details are covered.
I often see photos of wall-mount faucets paired with sinks that sit on the counter. However, this is just one way to do it. I actually prefer them with an undercount undermount sink. There are many styles, from traditional to modern, and an equal number of finishes from unlacquered brass to carbon. Select a style that is consistent with the design of the rest of the bath and aligned with the adjacent rooms. Whether you select cross handle or levers (make sure they are always parallel to the counter), choose the design carefully, install it properly, insist that the installer carefully measures the spacing and height from the sink (you need to be able to wash your hands) and make sure the spout is long enough so that you will not splash water all over the counter.