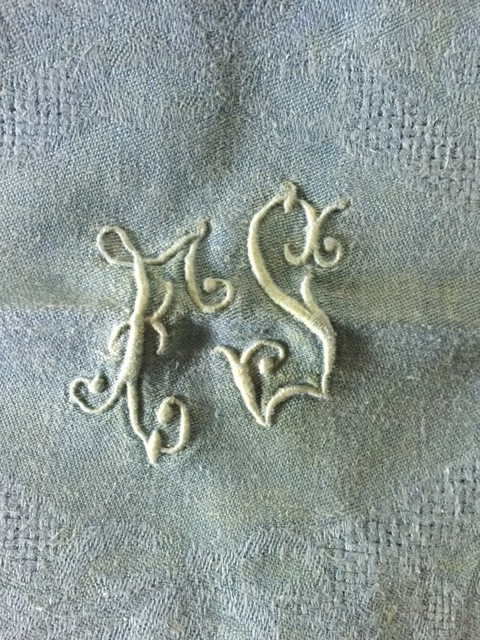 Beautiful green damask with raised embroidery. I use these all the time at dinner parties and guests always comment on them.

Monograms, ciphers and decorative borders add a layer of design to the simple white bath towel. While this kind of decoration could be called old fashioned and connected to another time, monograms are a creative design tool and a kind of style statement once again fashionable in the 21st century. No longer the prevue of the wealthy with access to skilled artisans, decoration on towels, sheets or napkins can be digitized with specialized machines in countless colors, fonts and borders.
By definition, monogram is a combination of letters, usually two or three, which are intertwined or overlapped to represent an individual, company or kingdom. Artists, painters and engravers used letters in combination to sign their works of art (be sure to look for Albrecht Durer and Rembrandt). The Victorians used monograms for practical reasons; often designed and embroidered by young school girls, these marks were needed to identify the family linens in the communal and collective task of laundering.
At Waterworks, we are creating a fresh take on the monogram with our newly introduced made-to-order program. Not only can you embellish towels with monograms but there are 56 colors of trim to customize your towels along with ciphers and borders. Our programs is simplified from the Victorians giving the Gotham towel a modern edge. Since there are no rules for monograms, you can use the ones we have selected or design one of your own.