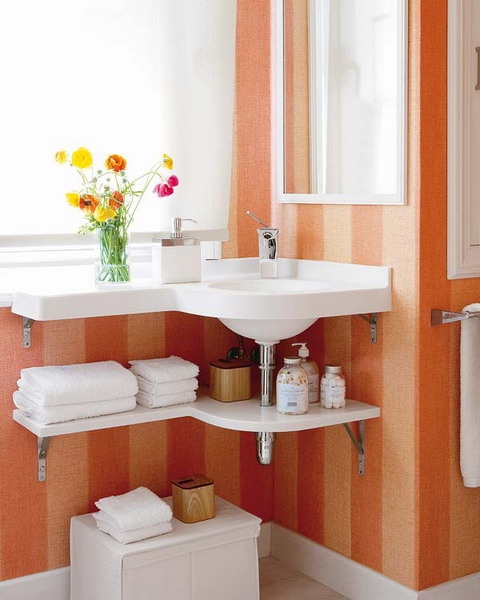 This is a very clever and modern solution to the corner problem. It adds a little counter space, often needed in a small bath.

Many of us find ourselves very short on space in either a powder bath or, occasionally, a full bath. Finding the right solution for these space constraints is never easy. I was poking around and found one solution to resolving this spatial dilemma: the corner sink. While the corner sink solves the water delivery issue, it is not necessarily the prettiest resolution. But, for washing hands or brushing teeth, it gets the job done.
Most of the images in this post use vintage sinks to illustrate small space solutions. Sometimes they are available at salvage yards and often have just two holes for faucets. This means that separate hot and cold taps are used–not exactly the most convenient way to wash your face (and a bit Edwardian). I, too, have a tiny powder bath at the foot of the stairs in a room that wraps around a chimney. I created a marble slab with a 10″ round under-mount bowl and a single hole lavatory faucet. It turned out to be  a clean, attractive and effective solution and I was able to use my favorite marble, Danby.
Often, out-of-the-box thinking leads to the right solution for tiny spaces, or any space for that matter.