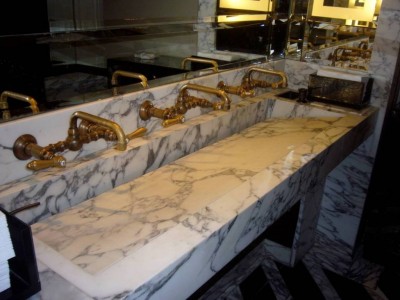 Reminiscent of grade school bathrooms, Cecconi's ladies room with 3 unlaquered brass fittings and a custom marble trough sink is charming and different.

At one time or another all of us have been in a public bathroom, whether it was in a restaurant, hotel lobby, airport or museum.  I think we're all relieved if they are clean and have toilet paper, even more so if they have hot water, hand wash and paper towels.  Their design and decoration is often secondary.  However recently I've begun to notice a shift in public bathroom design.
Or at least I thought I had noticed a shift.  I was in New York City recently, on a very hot day, and decided to check out all of the hotels along Fifth and Madison Avenues from the 50′s up to the 80′s.  Trusty camera in hand, I marched through lobbies and up steps to be incredibly disappointed.  I don't have one photo to post from that excursion.  Disappointed in what I found, I washed my hands often to test soaps and towels, looking for something good to report.  Sadly, there is room for improvement in the category of public bathrooms.
On the bright side, I was in Los Angeles weeks ago and had the pleasure of dining at Cecconi's, on the corner of Melrose and Robertson in West Hollywood.  It's a stunning black and white restaurant with lovely vintage objects.
I do love it when there is continuity between the sometimes theatrical, unconventional or glamorous design of the dining room or lobby and the restroom.  It makes the whole design flow and it doesn't feel as if you departed to another country.
The food was delicious at Cecconi's, but the great surprise was the wonderful bathroom.  A black and white treasure with unlaquered brass fittings showing a wonderful patina that only comes with age and use, a custom marble triple trough sink in perfect scale for the space, a very graphic floor and lovely antiqued mirrors.  It was so charming that I wanted to stay and take in all of the details.
The bath at the New Museum in New York's Lower East Side is appropriate for the modern vibe of the space.  It's vibrant yet simple.  Decorative mosaics are great for public spaces, particularly patterned ones.  The scale of the design can easily be manipulated and the colors blend well.
I have visited the Gramercy Tavern twice recently.  They take a utilitarian restroom and warm it up with fabulous flower arrangements.  Something as simple as flowers can dramatically change the way you feel about a space.  This is, of course, exactly what happens in your own bath by adding an object, plant or picture.  It will change the look completely and reflect your personal style.
I hope you will share photos of wonderful public bathrooms you have seen as this is a subject I will visit again.
All photos by Barbara Sallick.